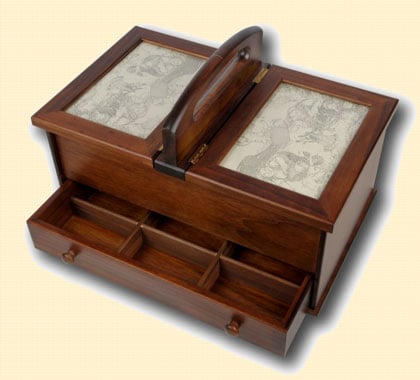 There has been so much interest in this sewing caddy. I bought this from Casa Cenina which is the only place I have managed to find them after much searching.
I thought that I would share with you how the draw is done.
I go to dashboard then posts on both blogs, I then print off the lists for the period and using a guillotine I cut them into strips.
There is usually someone around to ask to make the draw
This month Gillian did the honours. Do you want to watch the video to see who has won?
Congratulations Laura, this is truly an international challenge and your sewing caddy will be off to Mexico as soon as you email me your postal address.
This year is whizzing by - o
n July 16th the first name drawn
can select a Scarlet Letter Chart of their choice and full yard of linen from Scarlet Letter's wonderful selection subject to availability.
The second name drawn will receive a Thimble Keep which has been sponsored by Carmen of Cardan Antiques. The keep will be the perfect place to keep thimble, needles and pins, safe and close at hand while working on your favorite Scarlet Letter Sampler.
Carmen makes these herself with reproduction quilt fabric and cotton velveteen filled with emery to keep both pins and needles sharp, an antique button provides the closure that will keep your thimble safe, and allow you to always have your sewing necessaries at your side.
Make sure you post your progress, each post qualifies for the draw.