I have been diligently stitching Rebecca Cullin and have finally taken a full photo to show. She is quite large!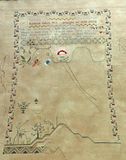 I began looking closer at the work I have already done at the top of the embroidery... the stem stitching is dreadful!! It seems like such a simple stitch, but if you don't follow the rules, it can get very sloppy. I didn't realize there were rules when I first stitched that part. Thank you Mary Corbet!! Now I really must redo the stem stitch vine. You can see from the photos the beginning (on the left) that is redone is much nicer than the rest... I do not mind to frog the vine because it will be much prettier.

I have decided to restitch the leaves in the top embroidery as well, but leave the flowers. I am waiting on an HDF order of the premium (twice the diameter) silks needed, so in the mean time I will put her away. If you look at the leaves under the carnation in the center, you can tell the leaf on the left is regular silk and the leaf on the right is premium. It stands out so much better!




Look at the lighter green vine in the center connecting the leaves- yes, that is supposed to be stem stitch!! Yuck!! That will get a definite do-over as well when my premium silks arrive.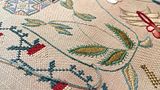 The trunk will be filled with stem stitch and the branches are supposed to be straight stitch. I have been spending a lot of time on Mary Corbet's site trying to decide which stitch I wanted for the leaves. After rejecting the straight stitch and fly stitch, I decided to go with the fern stitch. I think it makes cute little leaves! I am using HDF Old Maid of the Forest in Premium. The trunk is an old dye lot of OMotF in SSR and darker, so it will make a nice trunk. I am using the chart/ stitched model/ and original Rebecca Cullin to decide how to stitch this cute little tree.




It was a pleasure seeing Bethany and her mom's inspiring photobucket pictures on Nicola's Scarlet Letter Year Blog 2. It was so inspiring that I have decided to pull out Polly Phillip. The colors in PP are so bright and happy. The inside panels are over one tent/continental stitch, which I love! I plan to outline the rest of the panel and then start filling it in.